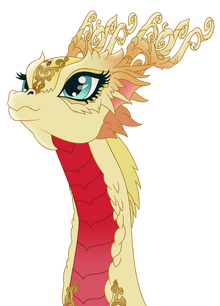 Braebyrn is Apple White's Dragon for the Dragon Games.
Personality
Braebyrn is just like her owner: kind-hearted, brave and very charming. She is also polite, understanding and full of tolerance for others.
Appearance
Braebyrn is golden, creamy colored dragon with deep red scales on her chest and belly. She has light blue eyes and golden horns on her head. She also wears a gold and red saddle decorated with white pearls and a special dragon bridle made of pearls and very long red reins.
Friends
Braebyrn is likely friends with the other dragons and her owner Apple.
Powers
Braebyrn has lighting bolt power, and a special defense called Mirror Thunder.
Trivia
Braebyrn's appearance is based on the Chinese dragon.
Her favorite food is cupcakes.
She is the best-behaved of Legend's babies.
Her name is a nod to Braeburn apples.
Braebyrn does not like when her owner, Apple goes wrong, which shows that the dragon is dissatisfied when Apple intrigued with the Evil Queen. So it comes out that Braebyrn is wiser than Apple.
Gallery