Cedar Wood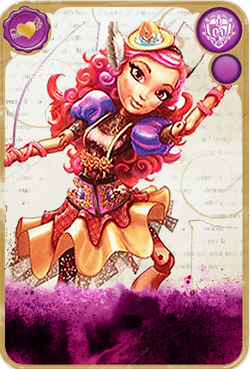 Daughter of Pinocchio

Cedar Wood Marionette is the cursed, story version of Cedar Wood. A man from her Pinocchio story put a magical curse on her, Madeline Hatter , Raven Queen and Apple White turning them all to puppets.
Personality
Cedar's caring personality hasn't changed. As she was already a puppet she is only one who can break the curse and she is determined to save her friends and get them back to their former self.
Appearance
Cedar remains a wooden puppet but now has chin joint too to open and close her mouth like a puppet. She is stringed from her head and hands to a puppeteer lattice. She has a long, thin nose, donkey ears, large golden and brown eyes, heavy blush and black freckles on her cheeks. Her hair is lilac, red and strongly curled.
Family
Her father is Pinocchio.
Friends
Raven Queen, Madeline Hatter, and Apple White.  
Pet
On the puppeteer lattice there is a green grasshopper but it's unsure is it her pet.  
COMING SOON
Gallery