Jurassic World: Dominion Dominates Fandom Wikis - The Loop
Play Sound
Special festivals are held at Ever After High school in honour of the Royal Tales. The festivals are briefly mentioned in the Chapter, A Massive Snooze Fest Slumber Party from The Storybook of Legends, and it is during one such festival that Raven Queen and Apple White sneak out of the school.
Sleeping Beauty
The story Sleeping Beauty has a yearly Beauty Sleep Festival. Everyone puts on their pyjamas, lie on their beds and following the magical spell, involving a pink cloud that rains pink magic dust over the castle, they have two days of restful sleep. The magic only spreads as far as the 100 foot briars that grow around the school. Briar Beauty, whose story it is, would prefer a dance festival with "some kicky music and a chocolate fountain" and feels that because she has 100 years of sleep ahead of her, to her it is the "Worst. Festival. Ever." The following morning after the festival the school has the Beauty Sleep Festival brunch held in the Castleteria.
This year, Ashlynn Ella took a shipment of fuzzy slippers from The Glass Slipper Shoe Boutique to the festival that were fairy comfy.
Cinderella
Cinderella has a yearly Spring Cleaning Festival that ends in a Ball after the students clean the high school, scrubbing cauldrons and floors, removing old spell stains, vacuuming trails of bread crumbs and sweeping up pixie dust. Ashlynn Ella says that everyone has "to be royally responsible for the enchanting world we live in", and does not care that her party is spent cleaning.
Apple White sees this festival as the ideal opportunity to clean out her sock drawer and wear a ball gown to the dance that goes on until midnight, following the Cinderella tradition.
Snow White and the Seven Dwarfs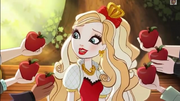 The story of Snow White and the Seven Dwarfs has a yearly Apple Festival, consisting of non-poisoned pies, turnovers and breads, leaving the whole school smelling of cinnamon and nutmeg for days. As co-president of the student council, Apple White attends every festival but has always enjoyed this festival that is in her honor and this is likely because for her, the festival has no negative qualities.
The Little Mermaid
The Little Mermaid Festival takes place each summer down at Looking Glass Beach with swimming, beach volleyball and a clam hunt.
Cerise Hood and Daring Charming set up an intense game of beach volleyball that ended with everyone cooling off in the ocean.
Other Festivals at Ever After High
Gallery