Northwind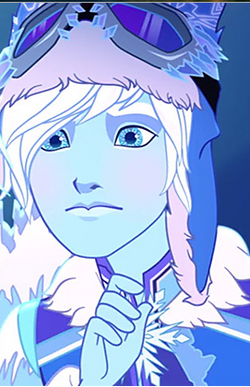 "What exactly will we rule if the world gets destroyed by winter?"
―Northwind +
Northwind is one of the main antagonists from the movie Epic Winter and is a servant of The Snow King.
Personality
He acts very carefree and likes to have fun, he can be clumsy, and even clueless in situations
Appearance
He has ice blue eyes, blue skin and white hair.
Setting
Settings are places where fairytale characters live and there stories are based. Northwind's setting is the Snow King's Ice Castle at The Top Of The World where he works. The Ice Castle is located above the clouds, behind a big, ice gate in the middle of large snow fields. There are amazing views of the starry sky and northern lights.
Friends
Family
He is the twin brother of Jackie Frost.
Powers
He has the ability to shapeshift into arctic animals and winter objects including a polar bear, snow owl, snow mouse and an ice sculpture. However, only the power of the Snow King's scepter gave him the magic to become an ice giant.
Trivia
Gallery