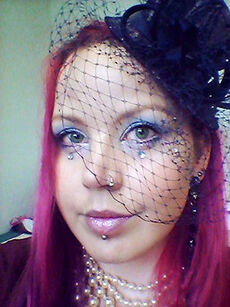 Want to know my dolls? Check my doll blog !  (Bit outdated, sorry!)
The daughter of Bad Fortune
Born under the unlucky number 13 on the month that is considered to be the month of deceased she was destined for misfortune. Someone did feel pity for her so they made her a Sunday baby, they are said to be the most lucky ones of all. Maybe it would even the scales out. Despite her destiny she did and thought only after. Usually with bruises or fractures, but always laughing. She didn't tease Lady Luck on purpose, she just didn't think ahead. Then one day Lady Luck informed the child's luck had run out and it was time for her to live out her destiny as the unfortunate one. MisLuck took her destiny but refused to live it out as planned.
About me
Side
Rebel
Personality
MisLuck is an introvert but given the right company and comfort she can be outgoing, wild and filled with ideas how to live life to the fullest. She doesn't think of her name or destiny, she just does.
Otherwise she is very down-to earth girl who loves nature and to daydream. To her friends she is very loyal and protective about them. Even though she has dark sense of humour and sarcastic side she wishes nothing but good to everyone and is willing to help everyone unselfishly. She is very creative and loves music and dancing deeply.
Appearance
MisLuck has green eyes and colour changing hair. Often it searches out different hues and shades of red.
Name
As each Ever After High student has their own fairytale-represented name, MisLuck gets her name from her bad luck. She doesn't let her name get her down, she trusts things will sort themselves out.
Setting
A secluded place from a small country, far away from others, in deep woods. From there she started her journey to live in a small cottage on countryside.
Family
MisLuck has one family which includes her husband and pets, the second family that includes her mother, dads, brothers and aunts and a third family that includes her best friends and their parents (but mostly her best friend's family. All 23 of them and that's just the sisters and their kids...).
Friends
MisLuck is best friends with a hair dresser who follows her ideas and is in, or stops her from doing them. She is also close friends with a Duck Doctor, Sloth, so-called-Tinkerbell, The Amazing Author and a-man-with-no-introduction. She also likes a Sheep Lady whose sheep she loves to tend.
Romance
With misfortune, funny mishaps and plot twists MisLuck ended up finding her Beast and they lived Happily Ever After.
Pet
MisLuck has a pet corgi who is fluffy and a very black cat. They also feed the birds and animals from the woods to be in good terms with them.
Powers
MisLuck can heal minor things with her hands and read the nature and air predicting weather.
Colour Scheme
MisLuck likes earthy colours; brown, red and green but never says no to black or dark sky purple.
And to not make it an issue, I'm a bit older fan. I'm an 80's child. :)
Things I'm into
EAH (obviously)
MLP (G1 dolls and FIM)
How to Train Your Dragon and everything including it
Brave
Frozen
Terry Pratchett's books
Reading
Chemistry, Physics, Math, Psychology, Pathology and Geology.
Dresses and designing them
Knitting and everything to do with yarns
Ice cream
dolls