Hello There!
I am a 14 year old girl who loves Ever After High, My Little Pony, Harry Potter and the animes K-On!, Yuri on Ice and Hetalia.
My favourite pastimes are drawing, reading, daydreaming and listening to music.
I have 5 guinea pigs -1 male and 4 females-. While I love them all, my favourite is the one that is officially mine, an albino named Billy. Her nicknames are Voldemort and Gilbert Beilschmidt because she has white fur and red eyes.
The Things I Like About Ever After High:
What I really enjoy about Ever After High is all of the pretty outfits and cute characters that are so fun to draw. I don't really watch the webisodes much, I just love the characters and their designs. I also love the activity of going to the doll section in my nearest toy shop and just staring at the dolls there for about 5 minutes because I am not able to get some of them.
The dolls I do have are original Blondie Lockes and Duchess Swan, I customized both of them to make them more show accurate.
My favourite couples are:
Bunny Blanc and Alistair Wonderland
Raven Queen and Apple White
Ashlynn Ella and Hunter Huntsman
My Top 10 E.A.H Characters (Summary):
10: Cedar Wood - I relate to her because I have insecurities of not fitting in, yet I also feel her awesome potential was wasted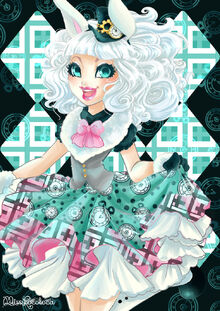 9: Melody Piper - I want her to become a main character instead of a mere backgrounder, she's really cool!
8: Faybelle Thorn - I love her personality and that she's a villain who wants to follow her destiny
7: Duchess Swan - She has reasons for why she acts like she does, because she wants a happily-ever-after, I like that about her
6: Apple White - She started out as a stuck up royal who wanted others to follow their destinies, but then she turned into someone who agreed with free choice, that's a lot of really good development!
5: Daring Charming - I already loved his narcissism and how self centered he was, but with his recent character development he just got a whole lot more awesome
4: Sparrow Hood - He is funny, has an great personality and awesome design, too bad he can't appear more and have some development for a change
3: Madeline Hatter - What can I say that hasn't been said already, she is funny, pretty and an awesome friend to Raven. I absolutely love her!
2: Bunny Blanc - I want Bunny to appear more too, she is extremely pretty, cute, has a very sweet voice and is adorable when interacting with Alistair. And I don't think she is boring, she just spent to much time with the non Wonderlandrian Alistair (That's a joke btw, I don't hate Alistair, I really like him)
1: Blondie Lockes - I feel like she is judged way too harshly just because she likes to invade on people's privacy, but that is because she has insecurity issues and is a reporter. I actually find her really sweet and cute, and I want to find someone one day who thinks the same as me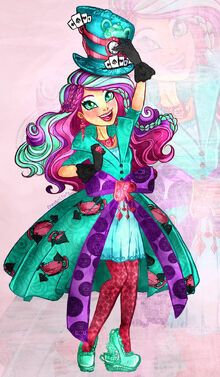 I have a more in-depth page on my user blog if you want to check that out.
My Favourite Songs (Currently and in alphabetical order):
All the Right Moves - One Republic
Can't Stand It - NeverShoutNever
Classic - MKTO
Give Me your Hand - The Ready Set
Hello - Martin Solveig
I Was Gonna Cancel - Kylie Minogue
It's Time - Imagine Dragons
Kidz - Take That
Love Love - Take That
Me and my Broken Heart - Rixton
Rule the World - Take That
Sky Full of Stars - Coldplay
World so Cold - Three Days Grace
My Favourite of Other Things: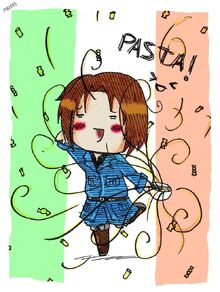 Music Artist(s): Three Days Grace, Marina and the Diamonds, Take That
Book: The Hero's Guide to Saving your Kingdom by Christoper Healy
Movie: Big Hero 6
Animals: Pandas, raccoons, unicorns (if they were real and not presumably disguised as narwhals)
Colours: yellow, turquoise, orange, green
School Subjects: Computer technology, Art, English
Foods: Italian food (Pasta and pizza), watermelon, cupcakes
That's all People!
May England and Flying Mint Bunny bid you farewell :)